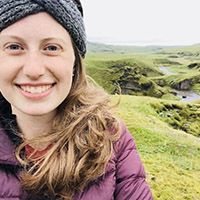 Amy Lieberman
Portal Tech Specialist
When Amy isn't baking lasagna, she loves to go camping, bike, tap dance, and MacGyver creative solutions. Her simple pleasures include wool socks, sticky note checklists, and sunlit porches. Formerly a middle school math teacher, Amy is now a software engineer in Boston.
Heather Harris
Local Leader Academy Administrator
Heather is a self-described foodie and jumped at the chance to join Lasagna Love as soon as she heard about it in February 2021. She quickly grew into a Local Leader role, and now serves as the Local Leader Academy Administrator, welcoming new members to leadership.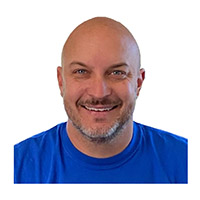 Jeff Haseltine
Regional Director CO, NM, & UT
Jeff joined Lasagna Love in September 2020 as a volunteer and Local Leader. He works in vendor risk management for a financial services company and in his spare time likes to travel, cook, ski in winter and hike in summer. He lives with his partner and three miniature dachshunds, (Noah, Ollie & Wally) in Evergreen, Colorado.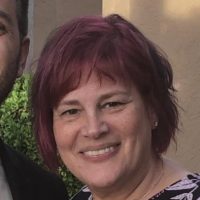 Shari DiBrito
Special Projects Director
Being immunocompromised, Shari wasn't able to continue serving at her church during the COVID pandemic. She needed to find a way to continue to give back, and stumbled upon a video promoting Lasagna Love. At first, this was all about 'the lasagna', but it quickly grew into much more…a passion for people she didn't know.  It quickly became people first, lasagna second, but an awesome mix!
"I am happy that I 'stumbled' upon that video, it gave me a new direction and calling in this season of my life."
Kristen Savage
Regional Director FL
Kristen joined Lasagna Love in November of 2020. Previous to living in Florida, she co-ran an organization feeding those in need in Buffalo, NY. Kristen is a stay at home mom who enjoys playing at the beach with her kids, a good book, trying out local restaurants, and traveling. Her true passion is helping others and she is so excited to continue to pursue that passion with Lasagna Love.
Andrea Scullin
Regional Director MA
Andrea has been with Lasagna Love since September of 2020. Andrea lives just north of Boston with her teenage son and his dog. Andrea spends her days as a family partner at a local human service agency and her free time is spent with family, reading, or spreading the good word about Lasagna Love. Andrea is passionate about spreading kindness in communities, uplifting families, and reducing the stigma of asking for help, all reasons she loves Lasagna Love!
Angela Patterson
Regional Director AL & ND
Angela runs a small bakery out of her home and is a substitute teacher. When she is not volunteering at church or leading her Girl Scout troop she is cooking for others. Food is totally her love language and Lasagna Love is a perfect fit. She started with Lasagna Love in Feb. 2021 as a volunteer and became the local leader of Alabama in April 2021. She loves being able to pour love back into the same communities that have poured love into her all these years.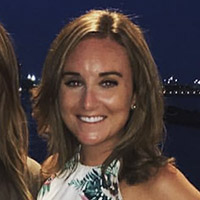 Ashley Keating
Regional Director ME, NH, VT
Ashley joined Lasagna Love as a volunteer in October 2020. Since then, she has worked on the onboarding and portal support teams, been a Local Leader, and is now the Regional Director of ME, NH, and VT. She currently lives in Boston, MA working in the events and marketing industry. When not cooking up lasagnas, she loves traveling, reading, fishing on Cape Cod, and her Chiweenie, Cooper.
Lauree Barnes
Regional Director CT & RD Trainer
Lauree joined Lasagna Love as a volunteer in Nov 2020 and quickly realized she wanted to be more involved.  She became local leader of Hartford County, CT and is now the regional director as well for all of Connecticut.  In a former life, Lauree was an actuary turned reinsurance broker but enjoys her current career at home with her wonderful and supportive husband and three children who keep her busy.  When not cooking or baking, Lauree enjoys playing lots of tennis, golf, gardening, and spending time with family.
Jennifer Jarman
Regional Director DE, MD, MO, WV & Australia
Jennifer joined in October 2020 as a local volunteer and quickly loved the concept of LL. In December 2020, she became a local leader and is now a Regional Director for DE, MD, MO, WV and Australia. Jennifer is also part of the volunteer support team and enjoys helping our recipients and volunteers . Jennifer is a mom with a grown daughter and son, a perfect grandbaby, 3 dogs, and 1 bird. A self admitted animal lover and people person who has never met a stranger. Volunteering with LL has helped to fulfill her passion for helping others.
Kelly Andolina
Regional Director NY & PA
Kelly is the proud mother of two grown boys and her beloved deaf Dalmatian Chloe.  She lives with her husband in Upstate New York and loves to cook and travel.  Kelly manages an end user service and support team for a large manufacturing corporation. She saw Lasagna Love as a great way to combine her love of cooking with her desire to help others in need and joined Lasagna Love in September 2020.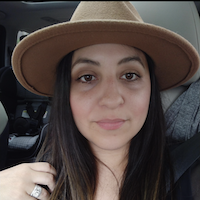 Kas Mehta
Regional Director AK, OR, WA
Kas recently moved to Portland Oregon from San Francisco with her little family. She started with LL organization end of 2020 and loves to cook, garden, and has a wild amount of houseplants.
"I love being involved with the community in any way I can. So happy to be apart of a wonderful, supportive organization like lasagna love!"
Wendy Miller
Regional Director ID, MT, WY, HI & Puerto Rico
Wendy joined Lasagna Love in September 2021. She works as a financial analysis and planner for a security door company. In her spare time she likes to travel, cook, and adventure with her two dogs Cooper and Ringo. She lives in Idaho Falls, ID.
Lisa Hade
Regional Director OH
Lisa joined Lasagna Love in September of 2020. Lisa is a retired RN, and a former animal rescue veterinary manager. For the last 7 years, she has coached high school and age group competitive springboard diving. Lisa is a proud mother to 3 adult children. She also became a grandmother in February 2022. Lasagna Love, cooking, gardening playing tennis, and traveling with her husband to see each of their children in California, Colorado and Philadelphia are her favorite activities.
Ashley Mudge
Regional Director AR, LA, MS, OK, & TX, University Collaborations Director and Compliance Officer
Ashley joined Lasagna Love in October 2020 as a volunteer, moved into the role of Local Leader of Fort Worth shortly after and is now the Regional Director of the Southwest. She currently lives in Dallas, Texas with her wonderful husband and fun loving daughter and has worked in compliance and risk management for various financial service firms. When she is not helping support our organization, the leaders and volunteers in her region and spreading kindness through delivering lasagnas, she loves traveling, watching and attending sporting events and spending time with family and friends.
Stacey Mantay
Regional Director CA
Stacey is the Regional Director for CA. She has been a part of Lasagna Love since Sept 2020. From the moment she heard about it, her 6 yr daughter and her knew they needed to be a part of it! She started out as a volunteer and later as Local Leader and now Director for CA. When she is not cooking and delivering for LL, she is PTA president at her daughters elementary, a girl scout mom and also part time caregiver.
"I enjoy the feeling I get when cooking and delivering warm lasagnas to those who need a meal."
Stephanie Driscoll
Regional Director SC
Steph is a wife and mother who lives in Easley, SC with her 2 sons and husband. Her family is also very excited to be in the process of adopting a 3rd child! She enjoys reading, cooking, and serving her community whenever possible. For a creative outlet, she also designs custom invitations. Steph joined Lasagna Love in 2020 as a volunteer, and quickly developed a passion for the mission. She assumed the responsibilities of a Local Leader in 2021, and then the Regional Director for the state in 2022.
Jenny Burns
Regional Director IN & MI
Jenny couldn't sign up for Lasagna Love fast enough when she first heard about it, as it combined two of her passions, cooking and volunteering. After starting in February 2021, she quickly realized she wanted to do more so she signed up to be a Regional Leader, eventually becoming Regional Director for Michigan and Indiana She lives outside Ann Arbor, Michigan with her husband and 18 year old son and is an avid Michigan Sports fan (Go Blue!) who also loves to read, hike and relax near water of any kind (lakes, rivers or oceans). Jenny works in health service research for the VA Hospital as a data manager.
Laney Schieffer
Regional Director IA & SD
Laney joined Lasagna Love in 2020 when she was looking for a charity to do with her children during the pandemic. The organization was brand new to Sioux Falls, South Dakota with only two volunteers! She has made her involvement a family project and way of life; her two kids, Annabella and Alexander, prepare the lasagnas, and her husband helps navigate the deliveries. She loves to play sports, travel, work out and bike with her family.
Galit Allemeier
Regional Director GA
Galit lives in Marietta, Georgia. Prior to moving to Georgia, Galit was a legal editor for a tax publication in Washington, DC.
Galit loves the flexibility she has volunteering with Lasagna Love and making a big community impact with little lasagna steps.
When not making lasagnas, Galit can be found watching her kids row crew and perform in theater. She loves the beach, reading, and playing cards with friends – and is always looking for the next big adventure!
Aimee Look
Regional Director IL
Aimee is a nonprofit professional who works with people with physical disabilities and executive functioning challenges. She loves to read, bike, box, weave, and make vegetarian lasagna. She started out as a volunteer in February 2021, then became the Local Leader for the Chicago region, and now is Regional Director for Illinois. She and her husband live in Chicago with their dog and cat.
Micala Teetzen
Regional Director KS & NE
Micala Teetzen started as a volunteer in 2021. After delivering 2 lasagnas, she was hooked and agreed to be the local leader for central Kansas. She is currently serving as the Regional Director for Kansas and Nebraska. Micala has been a zookeeper at Sedgwick County Zoo in Wichita, KS for 17 years. Other hobbies include visiting other zoos (currently at 61 and counting!) and attending zoo conferences, volunteering with various church efforts, gardening, bike riding and contradancing. She has 3 cats who are honorary volunteers because they insist on attending most Lasagna Love Zoom meetings!
Molly Yearick
Regional Director NJ
Molly joined Lasagna Love in October 2020. The mission of spreading kindness through cooking for others resonated with her and she has been active in the organization ever since. Molly has been a volunteer, a Local Leader and now Regional Director for NJ. Molly worked in the Fashion industry for many years. She now resides in Maplewood, NJ with her husband. They have 2 grown boys, and 3 grown Doodles! When not working, they all enjoy time away at the beach on LBI.
Carla Jo Martin
Regional Director KY & TN
Carla Jo is a retired family therapist and lives in Murfreesboro, Tennessee with her husband and their dog Tucker. She enjoys spending time with her three adult children and their families, as well as cooking and gardening. Carla Jo joined Lasagna Love as a volunteer in February 2021, became a Local Leader later that same year and is now the Regional Director for Kentucky and Tennessee.
Karyn Cram
Regional Director VA & DC
Karyn lives in Centreville, VA with her husband and daughter. She enjoys reading, gardening, the beach, and volunteering in her community. She spent most of her career in the IT field, leading a customer support team. She joined the Lasagna Love team as a volunteer in October of 2020, became a Local Leader in December of 2020, and most recently the Regional Director of Virginia in June of 2022. She is excited to help spread the word throughout the state.
Kim Kazda
Regional Director NC
Kim lives in Greenville NC with her husband Bill and two furbabies Monty and Lulu. She has a passion for feeding people and serving the community and this opportunity was a perfect fit for both. This is a family effort as her and her husband have committed to making and delivering Lasagnas together. She works for a non-profit as the Operations Director. She has been with Lasagna Love since November 2020.
Tricia McMullan
Regional Director Canada – NB, NL, NS, ON, PE, & QC
Tricia is the Regional Director for Eastern Canada. She has four lovely kids that keep her busy when she is not working her day job. Tricia has a passion for giving back to her community and Lasagna Love really fits the bill with her family's busy schedules! She has loved her experience so far and looks forward to seeing what Lasagna Love can do in the future.
Judith Stanford
Regional Director Canada – AB, BC, MB, NT, NU, SK & YT
Judith is the Regional Director for Western Canada. She is retired and single. Her background is in Oil and Gas and she is a CPA. Judith loves to cook, volunteer in her community and spends time with family and friends
Cris Peretz
Regional Director AZ & NV
Cris is the Regional Director for Arizona and Nevada. She joined Lasagna Love in 2021 as a volunteer and then moved into the local leader role. Cris works for a transportation company as a director for project management and in her spare time she creates fused glass projects or knits. Cris is married and has 4 kids and 6 grandkids. She tries to spend as much time with them as possible. Cris learned about Lasagna Love while watching an interview and heard the mission and felt like this was a match for her love of cooking and supporting her community.
Lynn Hirsch
Outreach Director
Lynn lives in Alpharetta, GA and is a hopelessly devoted Wife, Mom, Grandma, friend and volunteer! She says that her life changed on September 28, 2020 when she saw a story about Lasagna Love on the Today Show. She joined, began cooking and delivering meals and found a meaningful new focus in her "senior" life! She soon took on outreach leadership positions in GA and MS, a volunteer support inbox responsibility, and whatever else she could do to help grow Lasagna Love. Her husband of 49 years, 3 kids, 3 kids-in-love, and her five grandsons are the center of her universe and inspire her every day. Her main focus right now is Lasagna Love and everything outreach!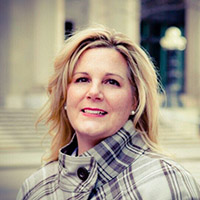 Wendy Agudelo
PR Director
Wendy Agudelo joined Lasagna Love in August 2020 to help spread the word about the wonderful work being done by volunteers across the country. She currently leads Image Professors, a strategic communications consultancy, but slings lasagna noodles on the side. An active mother of three children (including a set of twin boys), when Wendy is not architecting disruptive brand narratives, she can be found volunteering at her children's schools, cheering them on from the sidelines, or organizing the next community fundraiser.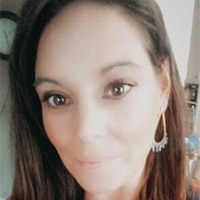 Andria Larson
Chief of Staff
Andria began volunteering at the beginning of April 2020 and has since moved into her current role. She splits her time between the West Coast and the Midwest. Andria is from all over the U.S. She is a proud mother of 2 awesome little kids and loves a coffee with a good book or podcast in her downtime. Andria is also an enthusiast of the Arts and music.
Ruby Huizar
Operations Admin. Assistant
Ruby, a mother of 4 and Grandma of 1, has been married for 27 years. She has over 30+ years of financial and marketing experience and is currently working fulltime as a Personal Prosperity Director. Her job is to help make progress easier for clients and the people they love whether they are struggling to put food on the table or contemplating early retirement, financial organization, debt elimination, and more. Ruby helps guide them to turn paychecks into financial success.
Rob Thomas
Chief Development Officer
Rob Thomas joined the Lasagna Love team in October of 2022. He came from a decades-long career in the theatre and is elated to be using his fundraising and relationship-building talents to help further the mission of this incredible organization. In addition to working for Lasagna Love, he serves on the Boards of Directors for the Minnesota Indian Women's Resource Center, the White Bear Lake Area Historical Society and Minnesota Citizens for the Arts. He lives in St. Paul, Minnesota with his wife, Kate, his niece, RickyMae, and his dog, Beauregard Jackson Pickett Burnside. He is of Dakota ancestry and enjoys researching his roots and participating in Native American cultural events.
Stephanie Stocum
Technical Project Director
Stephanie Stocum started as a volunteer in October 2020, become a Local Leader in November 2020 and took on the role of Portal Manager in February 2021. She oversees all things web/technology related. Steph currently lives in Virginia Beach with her husband and her college-aged daughter and son. She loves hanging on the beach, binge-watching shows on Netflix and watching baseball & football.